Prom Limo
It's True – Fun and Safe Can Go Together
Finding a great prom limo could be the easiest win-win ever! Combining style and fun for the kids with safety and peace of mind for the parents, Limos.com makes finding the perfect prom limo rental a great experience for everyone. Search Limos.com to find fab and affordable limos for prom and ensure you get everyone to the dance - and home - safely. Don't forget - the earlier you plan your prom limo service, the better the vehicle selection - and the savings.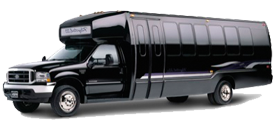 May All Your Memories of Your Prom Limo be Clean and Happy Ones
We take cleanliness seriously. Our prom limos will arrive spotless, both inside and out, ensuring you arrive in comfort and style. Our promo limo service providers are professional, courteous and meet our rigorous standards. Price should not be the only factor in your search. Much like booking a hotel room, different price points often mean different service levels. Limos.com prom limo service providers offer photos, descriptions and videos for their services.
More Prom Limo Options than You Can Shake a Tiara at
Search our elite network of prom limo providers to instantly find pricing and availability for limo services for prom including luxury sedans, stretch limousines, passenger vans, shuttle/mini buses, party buses, and motor coaches. Sharing the cost of your promo limo rental can often get you a bigger and better limo for the same price per person or less. Reserve the perfect prom limo for your posse and save big when you book through Limos.com.
Hire 'em. Fire 'em. You're the Boss.
Every one of our prom limo providers are competing with each other to win your business this prom season. This means our prom limo service providers are bending over backwards to ensure you and your crew are happy with your prom limo rental. They must be shipshape to get into our elite network and give the best possible service to our customers - or we ship them out. It's our way of keeping them honest. Prom night is one of the best nights of your life. Treat yourself!
Reserve Early – Don't Miss Out on the Best Prom Limos
Start searching well before you need your prom limo rental. In general, it is best to start looking at least 6-8 weeks before your event. And, it's generally a good idea to contact your prom limo service provider a week before the event, just to ensure everything is confirmed. Limos.com allows you to get quotes and reserve prom limo rentals well in advance and we can also show you what's available in your area if you, uh, are a little behind.