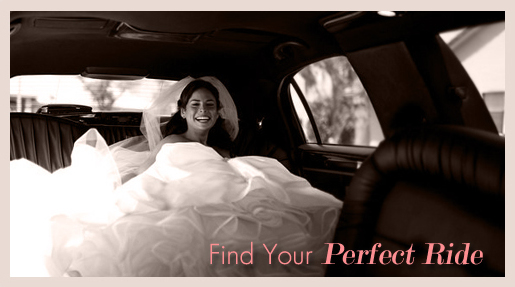 Need help?
Call the experts at Limos.com using the David's Bridal exclusive helpline:
800.221.8130
Wedding Transportation Tips
Top tips for planning, and for the big day
Let the Groom handle it!

It's your wedding - but remember, brides, it's also your future husbands'. In the flurry of planning that comes with any wedding, it's easy to want to control all the details and not delegate. Make sure that the groom is part of the planning process. For example, let him handle booking the limo and your wedding night hotel room. It's one less thing you have to plan, and he doesn't feel left out.

Know before you go

It's not every day that you arrive at an event in a limousine. Getting the right limo often depends on the number of people, number of hours you'll need and how far you're going. Many of our companies specialize in occasions like weddings to deliver the best possible experience. The more details you can provide, the better the value and service you'll receive. We allow you to enter all your trip details to get the most accurate quotes online - and we only display limo companies who can service your occasion, passengers, and address and meet our strict requirements.

Elegant Transportation doesn't have to only be on your wedding day

You've been dreaming of riding away from your wedding in a Bentley, to be sure, but the ideas don't have to stop there. What going out with the girls for a night, or going wine tasting while everybody's in town? Talk to your limo operator - many companies can work out a package deal.

Allow extra room

Sharing a limo with your wedding party? Make sure to allow for at least one person worth of extra room so that there's plenty of space for your dress - not to mention coats, purses, and various other items.

Map it out

Know the route you plan on taking from your house (or wherever you get ready) to the wedding site, and from the wedding site to your reception, as well as how long the driving time. Make sure that you write up detailed instructions, as well as alternate routes in case of traffic. These are important details to give to your driver so that you arrive on time.

Stock up the limo

Have your bridesmaids stock the limo with protein bars, fruit and bottles of water. Many brides and grooms are so busy during the wedding and reception that they often forget to eat. Have a snack handy on the way to the reception so you don't risk fainting on the dance floor.