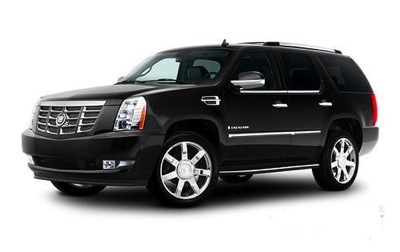 SUV - Cadillac Escalade
Color: Black
R.L.M. Transportation
Details
Located in San Francisco, CA
Year business started: 1998
9 vehicles total.
Member since 03/22/2011.
Affiliations
---
Reviews
"RLM is a boutique car service that has broken the mold for private car personal transportation. Besides the best customer service in the Bay Area car services (trust me, I know! been using the big services for 12 years like Carey, Empire, CLS), they have also invested in top-tier luxury sedans, many of those are hybrid (Mercedez, Audi, BMW, Escalade). RLM drivers are professional and excellent at getting us safely to and from. And it's not just for business use. We have been using them for evening transportation when wanting to be carefree about having wine with dinner and no driving later under the influence. Special events are always less stressful when they are handling the driving and we are not struggling with parking. We are always less stressed departing and returning form the airport when we opt for RLM. They are surprisingly affordable all things considered. RLM is also OWNER-OPERATED and that is the key to their exceptional customer service..... When was the last time an owner of a car service called you to check in on your satisfaction? Well, get used t it with RLM because their Owner is hands-on. Also, we recently hosted the Venerable Palden Gyatso for his Bay Area teaching tour and RLM not only drive Lama Gyatso safely during a week's tour, but the drivers were reading his book, as well as having been informed of his background by RLM's owner before they drive him. I simply can't recommend them highly enough."

"I was stranded in the cold at the War Memorial after the car service I have used for years, didn't show up nor call me. There was a young lady waiting for R L M and she offered to call for a car for me. She originally ordered a sedan and then after a quick call from her and within 15 minutes, a black SUV pulled up to the curb. The driver quickly exited and opened the door and safely delivered my 2 friends, wife and I to our hotel. I asked the driver for a business card and if they give City Tours. He invited me to visit their website and the rest as they say is history. R L M is now my first choice for a hired car service. They house BMW 7 series and Mercedes S series as their sedans and they have a Bentley for the guests at the St. Regis Hotel. The ride is comfortable in the SUV that I rode in and the driver seemed knowledgeable about the city and the wine country. If there were more stars to give, I would give them to R L M Executive Transportation. Pros: Great Customer Service, Knowledgeable about the city and surrounding areas, Very Punctual and avoided traffic well. Cons: None"