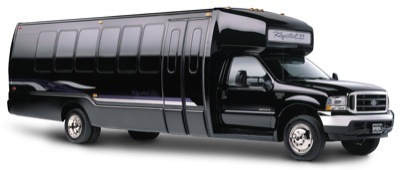 Mini-Bus - Shuttle Style Seating
Color: White
Greater Houston Limousine (Ghl)
GHL is a certified woman owned business. Having been in business since 1976 GHL is one of Houston's oldest most reputable ground transportation providers, holding number 2 license in good standing for over three decades. Our Philosophy is "One call. One bill. Worldwide." With the corporate and leisure traveler needing ground transportation in their home area, as well as their remote destination, it is comforting to know that GHL will be there, anywhere in the world. With the added value of technology GHL is now a leader in Worldwide Chauffeured Transportation! Leisure service you have come to expect from a Five Star hotel will be extended to everyone who enters any of our vehicles. Our goal is to consistently deliver safe and reliable chauffeured transportation to our clients. All of our chauffeurs are professionally trained to provide unsurpassed service.
Details
Located in Kingwood, TX
Year business started: 1984
9 vehicles total.
Member since 11/11/2009.
Affiliations
---
Reviews
"I just wanted to say thanks for everything that y'all do for us! You all are such an important part of the children's wishes! You take them to and from their wishes! Thanks to all the drivers who are so great with our children. Also, thanks for all of you who make our reservations! We appreciate all of you SO much!"

"Just wanted to provide feedback on how fabulous it was to work with your team. The dispatch manager was so patient and went the extra mile to ensure we had a professional driver and someone that I trusted completely with my little cousin and her roommate. Service was punctual and professional and Angie gave me a friendly call to give me updates as they arrived in College Station all the way through to arrival at my house. Unbelievable service and I would absolutely not think twice about recommending GHL."

"Gabriel the driver, the car, service, etc was perfect last night! I definitely made the right choice in going with you guys. I know it's your job, but thanks again! I don't think the night could have gone any better. Oh and she did say YES!"

"Please accept our sincere compliments and a huge THANK YOU from our family. We had the pleasure of utilizing your service on Friday night for our daughter's prom event. Ashley assisted us with the reservation and through several changes in plans as our event drew near, She met our every need with polite professionalism and was truly a pleasure to deal with. The driver was prompt and extremely courteous. I know that big part of the kids' prom experience was getting to ride in the Limo Bus...what a fabulous vehicle. Again, our sincere gratitude for job well done! We look forward to using your services in the future."